Halloween Printables, Papers & Crafts for Kids & Families: Round Up
Quirky, elegant and creative. These are the sophisticated more urbane designs we'd like to see adorning our doors, tables, parties and days.
---
Beautiful pumpkins made in the "snowflake" style.
---
3. Ravensblight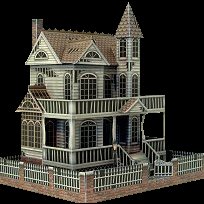 A FREE ornate ghost house with complete assembly instructions.
---
---
---
---
---
---
---